A New York Times column praising teachers' union president Randi Weingarten as a figure who has worked to keep schools open for the past two years was criticized as "lighting up the gas" on Friday.
Michelle Goldberg, a left-wing voice on The Times' list of largely progressive columnists, called Weingarten "misunderstood" and said the president of the American Federation of Teachers was the unfortunate target of "anger against public schools."
Parents across the country have been frustrated with the damage to students caused by closures and distance education, and Weingarten's about-face on school openings after threatening strikes in 2020 though certain security measures were not respected has been strongly criticized.
"But those who criticize Weingarten for closing schools misunderstand the role she has played over the past 20 months. Rather than defending the closures, she has spent much of her energy, both in public and behind the scenes, trying to open schools, "Goldberg wrote. "And she has tried, sometimes uncomfortably, to act as a mediator between desperate parents who mourn the interrupted studies of their children and beleaguered teachers who feel they are blamed for a calamity they do not have. 'have not created. "
Critics of Weingarten erupted on Twitter about the article.
Weingarten has opposed the reopening of schools in 2020 and has been repeatedly accused of putting the needs of union members above children as she repeatedly covers the issue.
She told Fox News in 2020 that schools did not have the funding necessary for personal protective equipment to return to the classroom, and in February emails showed her group had been successful in lobbying them. Centers for Disease Control & Prevention to be more careful in their guidelines for school openings.
RANDI WEINGARTEN FACE A CLAIM FOR CLAIM AFT TRYED TO RE-OPEN SCHOOLS FROM APRIL 2020
Communications obtained through a Freedom of Information Act request by conservative group Americans for Public Trust showed numerous emails between senior CDC officials and the union just days before the administration issued guidelines to reopen schools in February.
The lobbying efforts were reportedly successful, as the New York Post found at least two instances where "suggestions" were used almost verbatim under the CDC guidelines.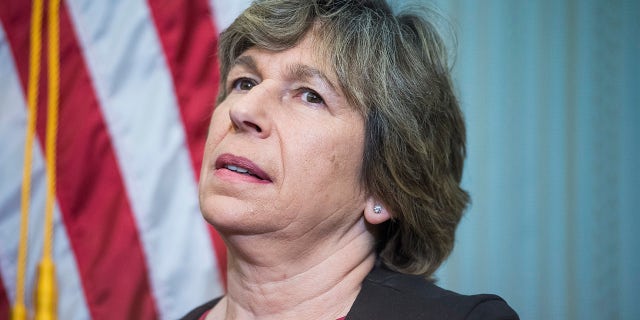 The CDC was prepared to allow school teaching regardless of transmission rates, but at the union's suggestion, the guidelines were adjusted to include a provision that read: "In cases of high community transmission resulting from a new variant of SARS-CoV-2, further update of these guidelines may be required. "
As recently as this summer, Weingarten was evasive, saying that we were "going to try" to fully open the schools, five days a week.
RANDI WEINGARTEN TASTED AFTER TELLING MSNBC "WE WILL TRY" TO REOPEN SCHOOLS AFTER CDC MASK GUIDANCE
Goldberg was among the "elite liberals" who now believe that long school closures in big cities like New York were a mistake, she said.
She cited union officials across the country who downplayed the effects of distance learning and school closings, but portrayed Weingarten as someone who has always viewed the closures as a "crisis."
Long a supporter of universal masking in schools, despite low transmissibility among children, Weingarten also sent a letter to the CDC requesting an "exit" from masking.
She described opponents of critical race theory like Chris Rufo of the Manhattan Institute as undermining the school choice movement, which teachers' unions widely oppose, and suggested that they believed the racism "does not exist".
"Are you going to tell black people that there is no such thing as racism in this country, and are you going to expect someone to kiss you for that?" she asked.
Fox News's Evie Fordham and Sydney Shea contributed to this report.