[ad_1]
By Chrishanthi Christopher
Views) :
Teacher unions will call for major protests by parents to support their demands after a series of awareness campaigns starting tomorrow to create maximum pressure to get their demands through the budget that will be presented on November 12.
With teachers due to return to schools tomorrow, they will resume their agitation campaigns with a protest outside the schools and then hold meetings with parents before urging to join an island-wide protest. on November 3, said union leader Mahinda Jayasinghe.
The unions said they had not abandoned their demands but only changed the course of the strike.
But, the government is moving forward with plans to reopen schools for all grades by mid-November.
The Education Ministry said yesterday that all government-approved primary classes will start from tomorrow.
Education Minister Dinesh Gunewardena told parliament he expected all teachers and principals to show up to schools on Monday.
Ministry secretary Prof Kapila Perera said arrangements were being made to open schools in November, as unions representing teachers and principals continue their more than 100-day protest action demanding that authorities 'tackle the problem of wage anomalies that has dragged on for more than two decades.
Talks to find a solution to the crisis ended in stalemate, but union leaders said this week that their members would only work from 7:30 a.m. to 1:30 p.m. and would not do overtime.
As a result, they will not participate in the resubmission of advanced level exam requests that were rejected by the exams department due to errors in the forms submitted in September.
They will also not attend work related to the submission of applications for the 5th year scholarship exams. They also made the decision to refrain from participating in exam homework.
On Thursday, the government reopened primary schools with fewer than 200 students as part of its phased educational resumption program in accordance with COVID-19 regulations. About 3,800 primary schools, mostly in rural areas, reopened after two years.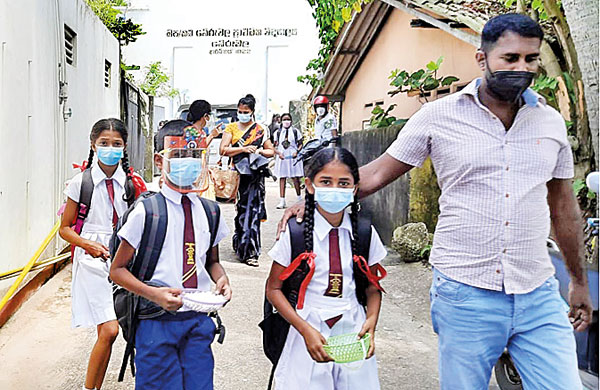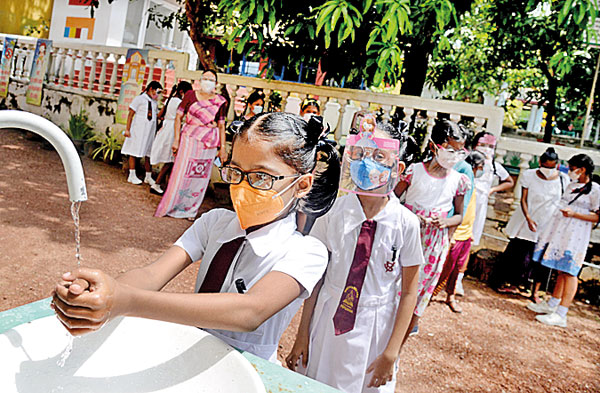 First day of school after a long lockdown linked to Covid. Scenes from schools in Beruwala and Galle. Pix by Thusitha Kumara and Indika Handuwala
[ad_2]