APTOS—This is the second of two articles featuring candidates vying for seats on the Pajaro Valley Unified School District Board of Trustees.
Last week, incumbents Jennifer Schacher and Olivia Flores had their say.
With four seats up for election, two remained uncontested. Daniel Dodge Jr. and Jennifer Holm will be appointed to their positions later this year instead of being elected.
Incumbent Kim De Serpa is hoping to retain the seat in Trusteeship Zone 1 which she has held since 2010, with political newcomer Natalain Schwartz hoping to claim it.
Administration Area 1 covers the northern portion of the district which includes Aptos High and Aptos Junior high schools, as well as Mar Vista, Bradley, and Valencia elementary schools.
Holder Kim De Serpa
De Serpa has served on the board since 2010, right after recession-era budget cuts forced previous trustees to make drastic cuts to programs and services across the district.
Many of those cuts have since been reinstated, including arts and music programs, which have returned to classrooms and after-school programs.
"I feel good about it, because it's one of my initiatives," she said.
Reading scores are improving, De Serpa says, and the district is completing a slew of facility upgrades through Measure L, the $150 million bond measure approved by voters in 2012.
De Serpa, who campaigned for the measure, says she wants to continue her work on these and other issues.
"The main reason I am running again is that the district has made so much incredible progress, especially in the last six years, and I would like to build on that momentum on behalf of the students and their families," said she declared.
This includes numerous HVAC and roofing projects throughout the district through elementary and secondary school emergency relief funds, she says.
De Serpa also points to literacy scores that have improved 63% since hiring PVUSD Superintendent Michelle Rodriguez.
"We know that if kids can't read in fifth grade, they'll never read," she said. "So this early literacy that she encouraged is very important to the success of these children."
Additionally, the district increased its statewide academic ranking from the third to the 50th percentile, she said.
De Serpa also highlights the district's partnership with the Youth Cinema Project, a program created by actor Edward James Olmos to bring cinema to schools.
"It gives these kids another path to success, where they can see themselves doing these things in the future," De Serpa said.
The district is also set to open a culinary program at Starlight Elementary School, with a garden and industrial kitchen created by celebrity chef Emeril Lagasse.
De Serpa is a licensed clinical social worker for Salinas Valley Memorial Health System. As such, she says she attaches importance to the health and well-being of students and their families.
She recently voted to increase the number of mental health professionals throughout the district and supported funding for coaching positions and athletic programs.
"When you take the progress of the district as a whole, I don't want to see it go back to where we were," she said.
De Serpa has been approved by the Monterey Bay Central Labor Council.
The Pajaro Valley Teachers' Federation was also close to endorsing it at a candidates' forum on September 9, but union members found themselves deadlocked in the ensuing vote, which means that none of the applicants in Trust Zone 1 have been endorsed.
With budget concerns always at the forefront of any district governance, De Serpa says any money available in the budget should go to school employees.
"Whenever our budgets improve, my goal is to give the maximum amount of money to teachers and staff, as I try to retain the best and the brightest for our children," she said.
She says she has only missed two meetings in her 12 years on the board, during which she served as chair four times.
De Serpa serves on the Pajaro Valley Prevention and Student Aid Board of Directors and the District Agenda Setting Committee. She also sits on the Santa Cruz School Boards Association. She was named Woman of the Year in 2021 by the Watsonville International Women's Day Coalition.
If re-elected, De Serpa hopes to address the district's teacher shortage by addressing workforce housing.
"We know it's impossible to live here on a new teacher's salary, and it's very difficult for us to recruit new teachers and administrators," she said.
She also wants to complete the long-awaited Pajaro Valley High School Auditorium.
"It's something I would like to achieve over the next four years," she said.
"Although this work is often thankless and sometimes painful," she said, "there is not a board meeting that goes by that I am not grateful to be there and to have a voice on behalf of our community. I think I brought stability, integrity and common sense to the board. And I'm very proud of the work that has been done.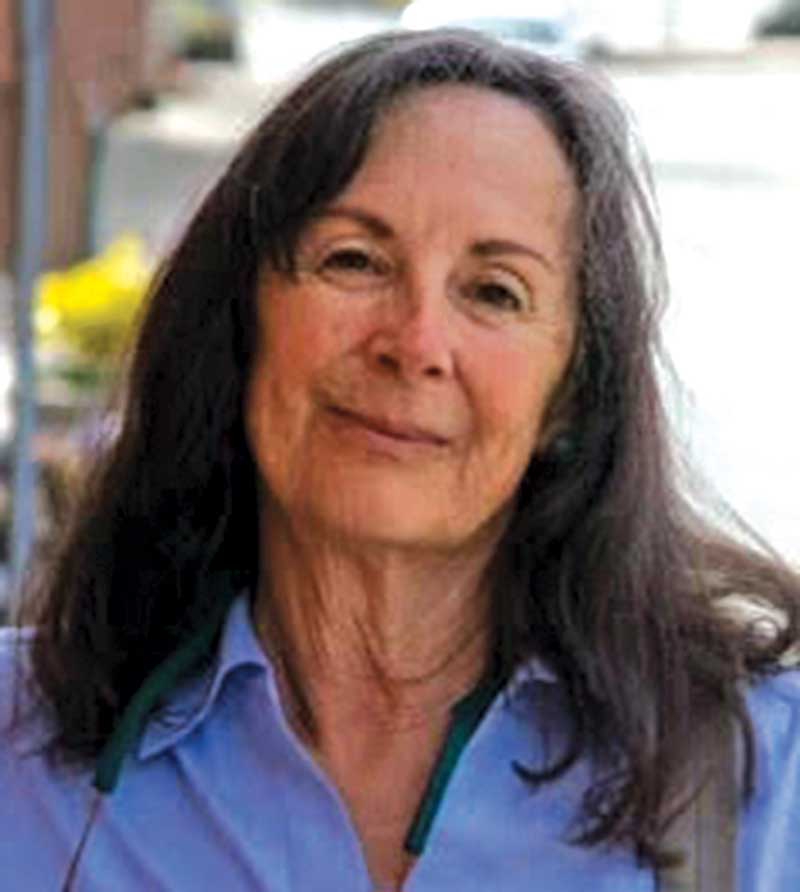 Challenger Natalain Schwartz
Schwartz owned her own landscaping and maintenance business in the county center for 25 years, during which time she managed all aspects of the business, including staff and budgets, which she says , groomed her for a board position.
She recently sold her business, but still operates the design part.
Schwartz has lived in Santa Cruz County since 1982. She has volunteered as a guide at Evergreen Cemetery and the Santa Cruz Museum of Natural History.
If elected, it would be her first political experience.
"I did this out of passion," she said. "I did it out of necessity."
In the weeks leading up to her decision to run, Schwartz says she spoke to students about their concerns, including those about campus safety. A student told her that she was afraid to go to school for three years and wanted a bulletproof backpack to protect her.
Schwartz says she disagreed with the board's 2020 decision to eliminate the school resource officer program and says having one on the Aptos High School campus could have prevented the fatal attack at knifepoint against a student in 2021.
The student responsible for that attack had a violent past that school officials were unaware of, she said, which should not have happened.
"To me, I think when you physically hurt someone, it's like you're out until you get some serious help," she said. "And then it's agreed that you can come back to campus."
Part of that might be anger management classes for some, she says.
"I don't think we should just let these kids out on the streets," she said. "They need help."
Schwartz also says she has spoken to teachers who have spoken of educator shortages that leave some classes taught by unqualified teachers or long-term substitutes. Teachers also said they often felt unsupported when dealing with "problem students," Schwartz said.
That support extends to classrooms, where most teachers spend their own money on school supplies, she said. A culinary arts teacher only received $500 for supplies and ingredients for just one semester, she said.
One solution to these problems, she says, is to "get creative" to help teachers stay in the district, including offering housing allowances or low-cost loans and partnering with local developers. to use promoter fees.
She also suggested adjusting teacher benefits for younger, healthier teachers who don't need full coverage and putting the savings into salaries.
She would also revisit the district budget.
"Education is a top priority and we need qualified teachers who are paid decent wages," she said.
Schwartz points out that PVUSD students lag behind their peers in academic grades.
Many, she says, experienced learning loss during the 2020 Covid-19 lockdown.
She says educators have solved this problem in part by lowering graduation requirements.
"It does not benefit the student or the school they plan to attend," she said. "There's a learning loss and they're going to have to make up for it somewhere."
Schwartz worked for the Santa Cruz County Office of Education in the Department of Special Education. She also taught a landscaping course there and says many of her former students are still working in the industry.
Schwartz did not attend the Sept. 9 online candidate forum hosted by the Pajaro Valley Teachers' Federation, where teachers would vote on who to support. She explained that she was "wary of the unions" at the time, sought to lead a grassroots campaign and did not want to feel beholden to anyone.
"I wanted to do it myself with the community and with the parents," she said.
She says she later changed her mind about unions and then attended the online CSEA candidate forum a week later when she received that union's endorsement.
Schwartz says the political undercurrent running through the district — and specifically the school board — doesn't concern her.
"I do this for the students," she says. "I do this for the teachers. I do it for the campus workers.
If elected, Schwartz says she will insist on fiscal transparency in the district and look for ways to improve campus safety.
She also hopes to create a process for reviewing textbooks before they are introduced into classrooms, ensuring they focus on 'core subjects' such as language arts, science, math and studies. social.
"Any books that will be needed in the classroom should also be reviewed by a small group of teachers, parents and students," she said. "I think we can all agree that children are our future, and for them to be successful, we need to provide them with the best possible education."
She said she was not referring to the removal of books with controversial topics such as LGBTQ content, which she says is akin to book burning.
"If you're in a library, we need to let young people read what's real, what's happening in the world," she said.
An earlier version of this story incorrectly stated the location of the Emeril Lagasse Culinary Kitchen.